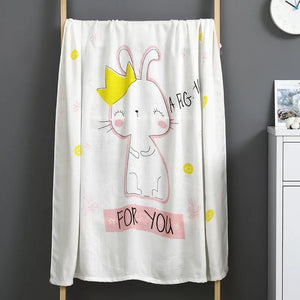 Bunny Hug bamboo swaddle
The Made on Earth's "Bunny Hug swaddle/blanket" is the perfect comfort partner for your baby. Its made up of pure bamboo fabric and the cute bunny print is sure to glee up the day.
Multipurpose: This lightweight, perfectly sized swaddle is generously sized 120X120 cm is perfect for 0-24 months baby. Apart from swaddle, it can be used as a baby washcloth, burp cloth, stroller cover, play mat, a nursing cover for on the go feedings, etc. Quite handy as baby wash towel due to its super absorbent feature.
Organic: Made from 100% bamboo fibers. It's pre-washed, ultra-soft, and gets softer with every wash. 

Bamboo Swaddle features a double interlock weave ensuring the wrap will last. 

Safe for baby's skin: Bamboo fabric does not irritate the skin since it is hypoallergenic which makes it perfect for the newborn baby.  
Smartest Gift: It can be a great gift for a baby shower and baby registry. These stylish and cute designs on baby swaddle blankets are sure to be hit.
Made in India: The Made on Earth Bamboo Swaddles are made of premium extra soft material that's undoubtedly gentle on baby's skin but is also organic and friendly to the environment. Its breathable and temperature regulating feature keeps your baby warm during winter and cool during summers.
Now wrap your newborn baby in
organic comfort
.